You are here
VIRTUAL REALITY-BASED MAINTENANCE SIMULATION BY MMEE LECTURERS
Primary tabs
Submitted by

admins2ptm

on Wed, 2021-04-14 10:06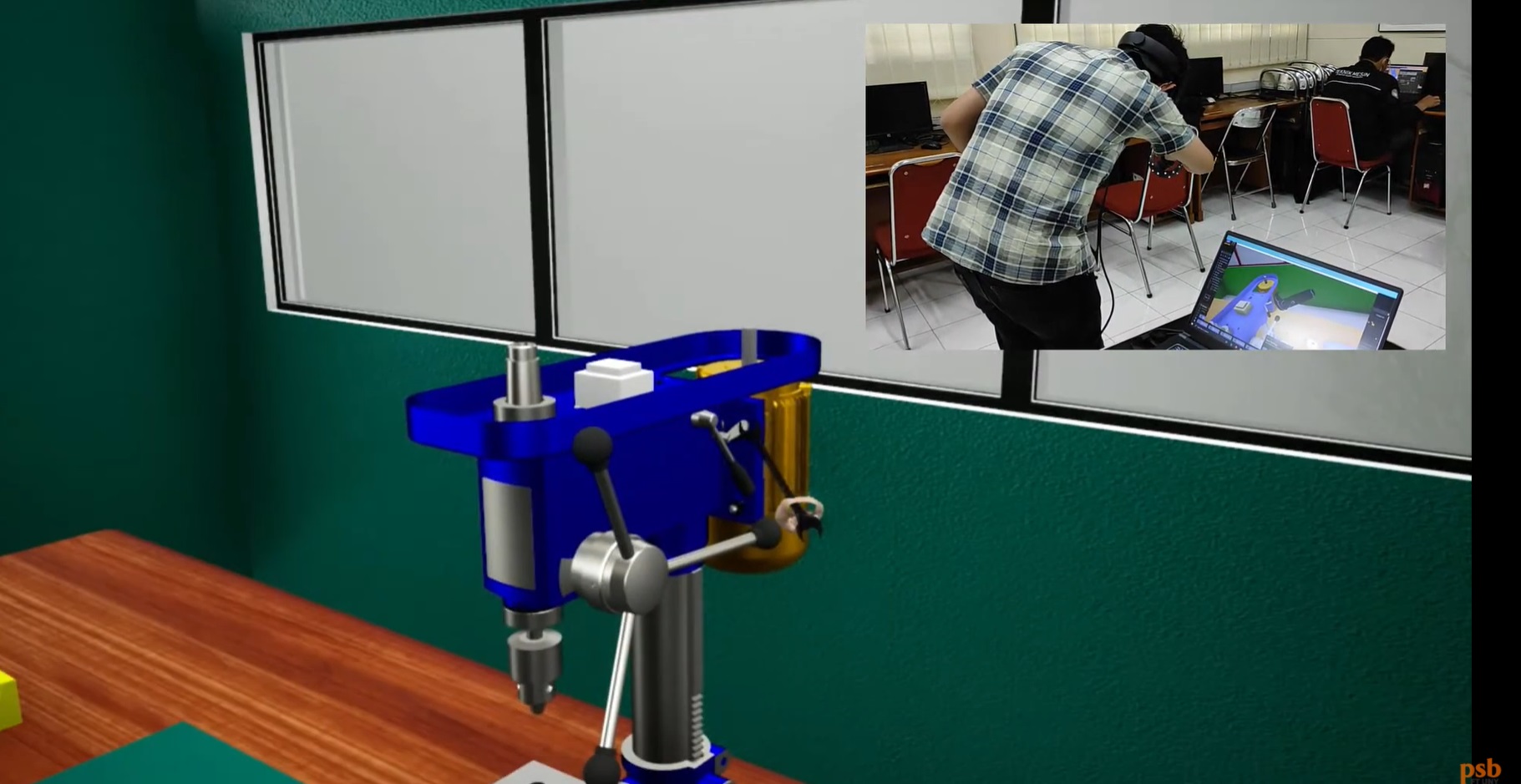 The pandemic is forcing people to innovate with technology to continue to work and do activities even if they do not meet face to face. In this case, Virtual Reality (VR) is one of the alternative technologies used during this pandemic. Taking advantage of the VR technology, several study programs from the Faculty of Engineering, Yogyakarta State University have created a VR model with a form of its use which has been shown in a video on the Youtube channel of the Learning Resource Center, Faculty of Engineering, Yogyakarta State University - PSB FT UNY.
One of them is the Mechanical Engineering Education Study Program, which creates a Virtual Reality-Based Maintenance Simulation as a basic simulation in maintenance, namely machine maintenance/repair. Using the help of a wired glove tool to perform actions on the machine, the user can not only find out the parts of the machine but also use a key or remove parts of the machine.
Through this application, the user can practice the basic maintenance simulation before taking direct action on the original machine. That way, VR is a training tool that can be done without direct contact.
In addition, there is also a Virtual Reality Restaurant from the Catering Engineering Study Program and the Catering Engineering Education Study Program. Although the COVID-19 pandemic has caused daily activities such as eating out of the home to be limited, some restaurants require buyers to eat food at home, so the atmosphere in eating food is different from when enjoying food directly at a restaurant.
For this reason, this VR restaurant was created, which can provide a dining atmosphere in a restaurant according to the desired taste. Several display options are provided in this VR regarding traditional restaurants, cafe restaurants, and fine dining restaurants. The existence of this VR restaurant can be a solution as an alternative to limiting activities outside the home but still being able to feel more or less the same sensation as in a restaurant.
Meanwhile, the Fashion Engineering Education Study Program creates a Virtual Reality Garment Production Planning based on an application that can be used on android phones. This VR Garment Production Planning application is relatively easy to use; on the application's initial screen, there are instructions on how to use it and a developer profile. There are four stages in the VR Garment Production Planning application. The first stage is the "Pattern Department," where the patterns of the clothing sections along with the sizes in clothing are displayed. In the second stage, namely "Cutting Department," a video of the process of cutting the materials for making clothes is shown. The third stage, "Sewing Department," shows a VR sequence of sewing a long-sleeved shirt. Then at the last stage, namely the "Finishing Department," the final process of making clothes to packaging the finished clothes is shown. Thus, the Virtual Reality Garment Production Planning application is relatively easy for users to understand how making clothes is.
The existence of several VR programs is enough to facilitate learning or activities so that they can be done at home to reduce activities outside the home and direct contact with other people.
The Dean of FT UNY, Prof. Herman Dwi Surjono, Ph.D., said that throughout 2020 10 VR products were completed by lecturers and students who collaborated with lecturers and developers from international campuses such as Universiti Malaysia Pahang, Education University of Sultan Idris Malaysia, Universiti Teknologi Malaysia. and others.
Herman explained that the VR products that have been produced are the Boeing 737 VR Simulator, VR Based Maintenance Simulation, E-Lab, VR Garment Production Planning, VR Restaurant, AR Hair Coloring & Bleaching, VR KSI Civil, VR Two-Stroke Engine, DIFLOTY (Dynamic Float Telemetry), and IoT Enable Ventilator Monitoring System for Covid-19 Patients.