You are here
CADCAM APPLICATION IN MANUFACTURING PROCESS
Primary tabs
Submitted by

admins2ptm

on Tue, 2021-06-01 22:09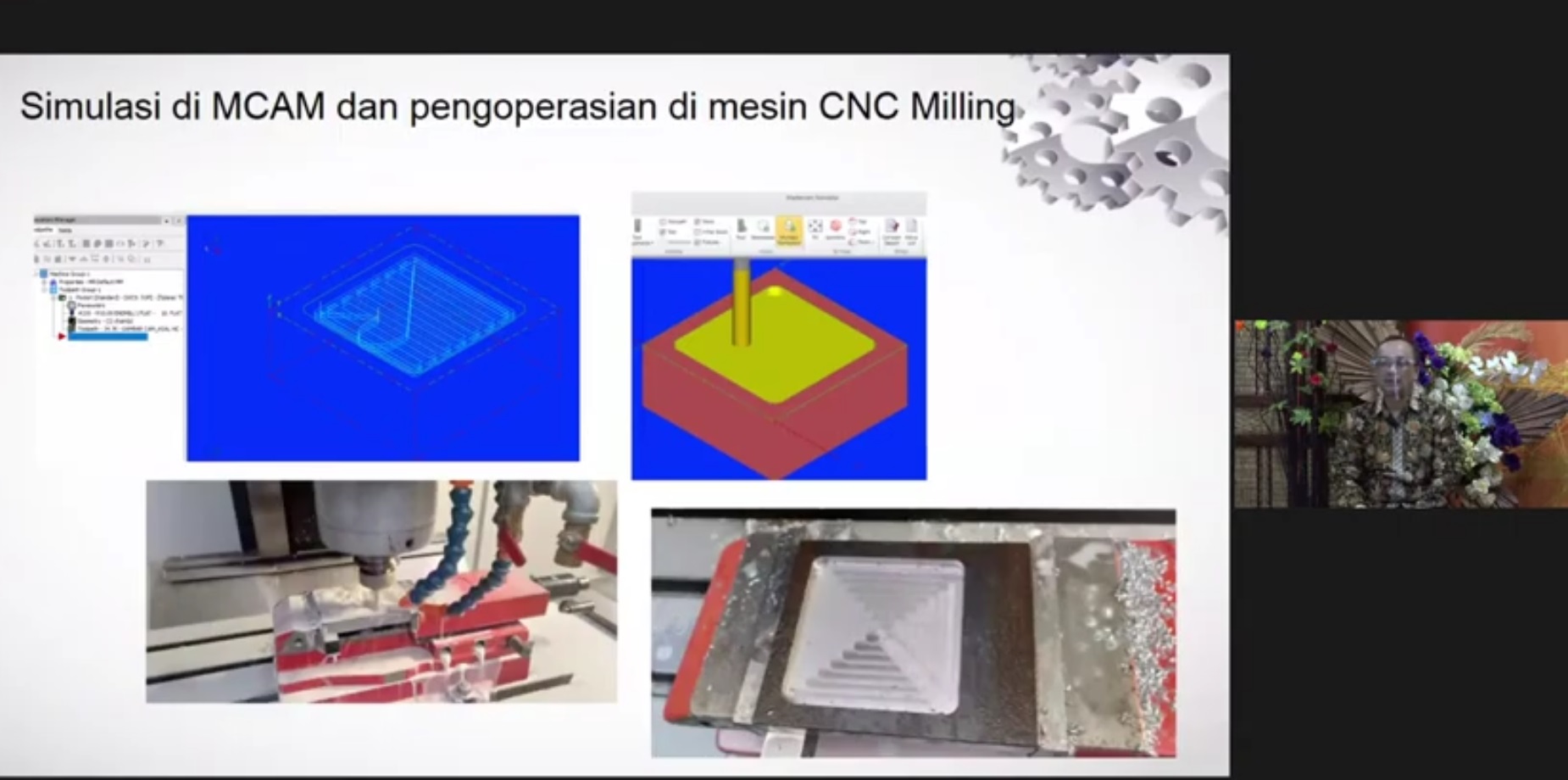 There are three types of manufacturing processes based on the manufacturing process, namely, manual where everything is done by hand with the help of simple tools such as saws, chisels, files and the quality is very dependent on the skills of the operator, then conventional machines where the manufacturing process has been assisted by production machines such as lathes. , milling, grinder here the quality of work also depends on the skill of the operator, most recently with a computer controlled machine or often called Computer Numerically Controlled (CNC), the process is carried out by a lathe / milling machine / router that has been inputted with a CNC program to work on it in an operator tasked with setting up and monitoring the course of production. This was conveyed by Dr. B. Sentot Wijanarko, M.T., when he started his presentation in a Webinar and Promotion Socialization of the Mechanical Engineering Education Masters Study Program of UNY (10/04/2021) which was carried out virtually through the Zoom Meeting application.
"Currently, the industrial world, especially the manufacturing industry, is very dependent on CAD / CAM for the further development of their products. The development of a competitive manufacturing system demands appropriate methods for the design of a product, "Sentot said.
CAD / CAM integration began with the development of Numerical Control (NC) engine technology. NC machine tools are then steadily upgraded in hardware and software control. NC programming and interactive computer graphics have contributed to this development. The integration of CAD and CAM placements increases the emphasis on NC machine tools and lines.
The main objective of CAD and CAM integration is the systematization of a series of information flows from the initial phase of designing a product to the final phase, namely the completion of the product production process completely and completely.
In most cases the CAM system will work with CAD designs created in a 3D environment. The CNC programmer will determine the operation of the machine and the CAM system that will create the CNC program.
In line with this knowledge, the Coordinator of the Mechanical Engineering Education Master Program, Prof. Dr. Dwi Rahdiyanta explained that the main research of this study program was curriculum development and vocational learning in the fields of mechanical engineering (machining), welding, casting, CNC / CAD-CAM and working safety as well as research in the field of mechanical engineering (composites, metal casting, welding and manufacturing design.)
"The career prospects of the alumni include becoming educators, both lecturers and teachers, instructors in education and training institutions, administrators of LSP and TUK, competency assessors, researchers," explained Prof. Dwi Rahdiyanta.